CANSPORTER
Trash Cart Carrier
Transport Your Trash and Recycle Carts with your vehicle and make your trash day easy
The Cansporter is the ultimate hitch mounted cargo carrier for transporting your trash and recycle carts, a must have for simplifying rural garbage and recycle collection. Easy to use, No Heavy Lifting required.
Shop Now
How it works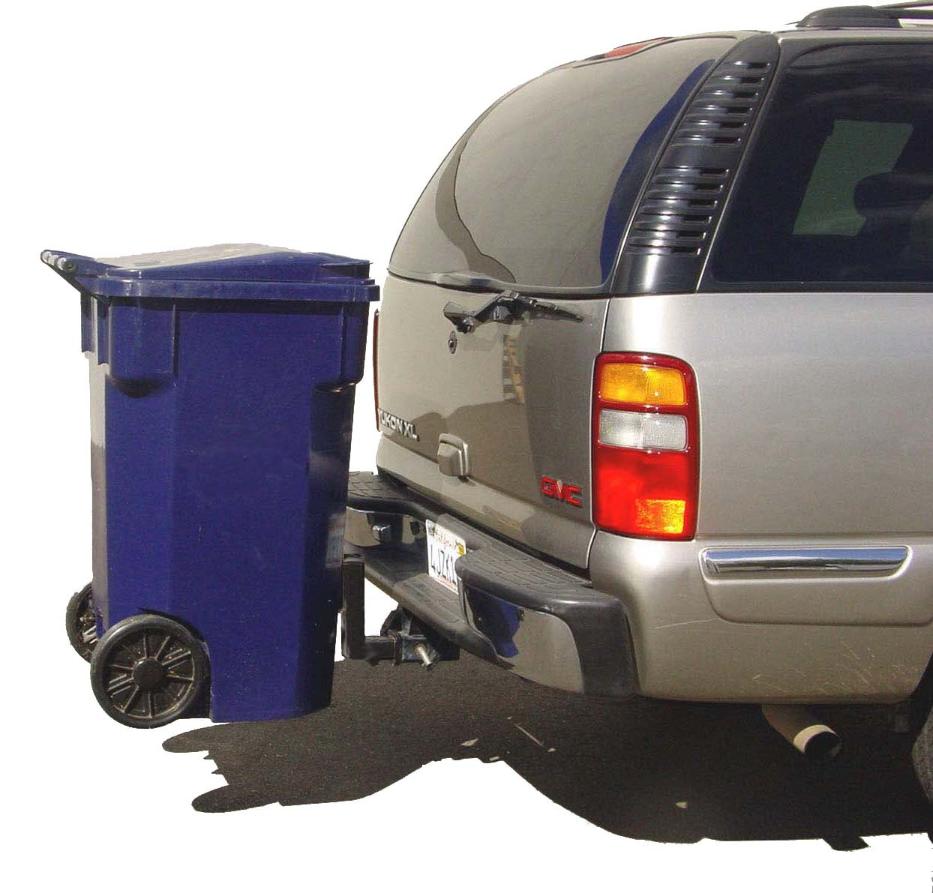 Attaches to various vehicle types

It really doesn't get any easier than this. Join the thousands of Cansporter users and make trash day simple.
It really doesn't get any easier than this. Join the thousands of Cansporter users and make trash day simple.



This Method……..Or



This Method? You Decide.
Christmas Purchase Give the gift of convenience

Purchase the Cansporter as a gift. The Cansporter will be the gift that keeps on giving week after week. You can purchase now with confidence that if the Cansporter is not the Big Hit of the season it can be returned during our extended return period. We have extended our return period to 30 days after Christmas. Merry Christmas and To all a Good Trash Night
It does not get any easier than this. The Cansporter does the heavy lifting and you can stay warm and dry driving your carts out to the roadside for collection
I live on a farm in WI at the end of a long driveway - hauling the garbage cans was always a problem. Until now!!! Love the Cansporter. Attaching the carts is so easy.
This product is awesome! No more lifting the cans into the back of my truck on trash day. It's a snap to hook up and very easy to load the cans now. It's well worth the money in my opinion and I will highly recommend it to all of my neighbors.
Just wanted to say that this is a really great product and is made well!! Makes this task a breeze and is the ONLY way to take the trash out if you have a long driveway etc. Also, the customer service was excellent!!!
With all the useless products being developed and marketed today it is truly refreshing to see that an actual need has been so masterfully tackled. My new Cansporter exceeds my expectations and is simply brilliant.
Read More Reviews
Why Cansporter?
Simple method to haul trash and recycle cans to the street.

Adjustable for cart bars 5" to 12" long for a secure fit.

Lifts trash, recycle or yard waste container with ease.

Carts are suspended above the ground for transport. Allows vehicle to back up with cart attached.

Adjustable to provide 10 to 12 inches of ground clearance for your carts.  Minimizes cart drag.
Complete mobility of vehicle movement.  Drive forward or backup on steep or flat terrain.

Carrier easily attaches and detaches from vehicle.

Transports carts from 30 to 96 gallon capacity.

Two models available.  Single cart carrier or dual cart carrier.

No need to tie carts down. Receiving channel width is adjustable to match your cart.
Read More About Advantages
Features that provide a perfect fit for your vehicle and cart type.
Adjustable mounting height for trailer hitch receivers that measure between 9 ½" to 28" from top of receiver to the ground.

Bar length on carts vary from 5" to 12" long depending on cart manufacturer. The receiving channel of the Cansporter is adjustable to fit perfectly with your style of cart which restricts side to side tipping of the cart during transport. Without this feature carts can fall off if the cart bar is more than a couple of inches longer than the receiving channel.
with cansporter you will NOT…
Lift the full weight of the cart -- Only minimal effort is required.     

Spill trash inside your vehicle -- The cart is transported outside your vehicle and is held upright.

Tie down the cart for transport -- Easy on, Easy off.
Get dirty lifting your cart -- Only your hands touch the cart handle.

Get rained on walking your cart to the collection spot -- You are inside your vehicle, the cart is outside.

Dread taking out the trash each week-- With the Cansporter the chore is easy.
The use of the Cansporter is restricted to private property and private drives. Not for use on public roadways.